Commercial and residential now turning to artificial grass
Photo: SYNLawns Kansas City
Homeowners in the US continue to prefer the convenience of artificial grass for their landscaping needs, as predicted in a previous article in Total Landscape Care. According to the latest figures from the Synthetic Turf Council, product installation is expected to exceed 40 to 45 million square feet by the end of 2014, and HomeAdvisor reports that the number of homeowners requesting artificial turf is increasing by 10 to 15 percent annually.
The types of artificial grass available now bears an eerie resemblance to traditional turf mixes. Over time, synthetic replicas of Bermuda, St. Augustine, fescue and Zoysia grass have come onto the market. Artificial turf is enjoying growing popularity and acceptance in both the commercial and private sectors because it looks and feels like the original.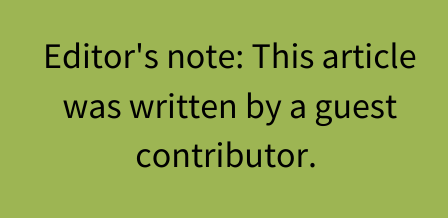 Artificial turf has come a long way since then AstroTurf was first introduced to the sports industry in the 1980s. It was marketed as a more durable solution to traditional grass for heavy exercise and play areas. The products gradually came as an alternative and water-conservative landscape solution in the home and garden market for homeowners in drought areas. Today, artificial turf landscaping is not limited to one US region or climate conditions.
Isn't artificial grass expensive?
Landscaping alternatives have become more cost effective with traditional lawns, mulch and plants. For example, homeowners can have a waterless lawn for as little as $ 3 to $ 6 per square foot for blades of polyethylene-based grass. In areas with heavy pedestrian traffic, it's worth investing in durable nylon products that averaged between $ 6 and $ 8 per square foot.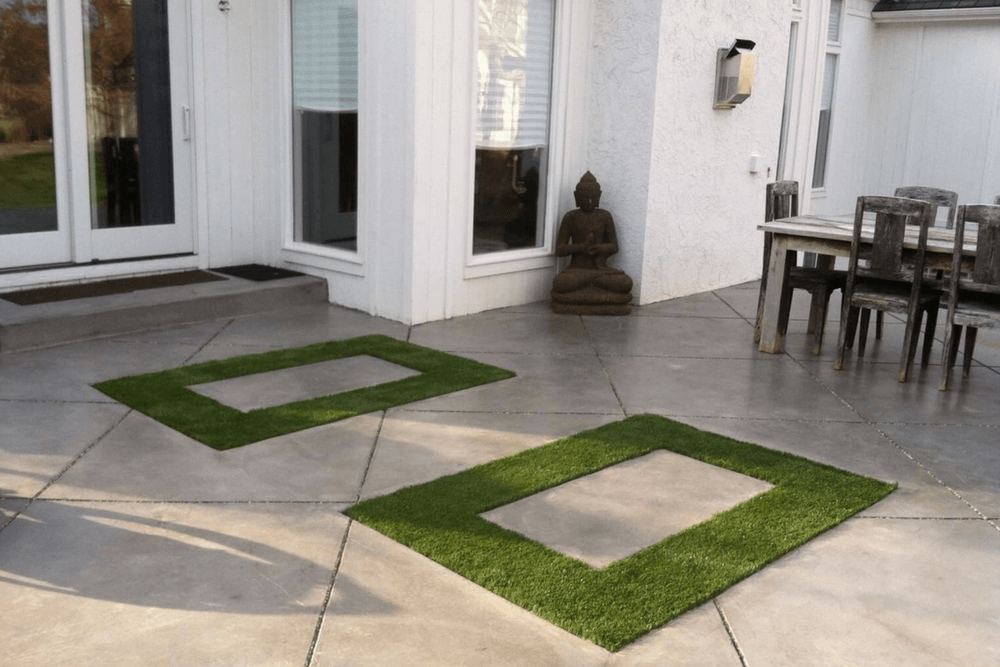 Photo: SYNLawn Kansas City
The main difference between polyethylene, polypropylene, and nylon grass fibers is the softness and resilience of the blades. Softer is better for kids and pets, but the thicker mixes with shorter pile are better for sports applications or commercial locations with heavy pedestrian traffic.
As the cost per square foot becomes more competitive compared to traditional turf, applications for both commercial and residential use have grown. Use it as a solution to any of these circumstances:
Dog racing and pet areas – Dogs love to run and play. So get it installed for dog areas where grass and yellow or brown stains tend to run down due to the concentrated uric acid.
Children's rooms – Children need safe play areas with additional padding and for frequent tripping. Artificial turf serves as a great buffer that doesn't slide under play sets, trampolines, and more.
Put greens – Create a stress-relieving zone in your yard or indoors with a custom putting green installation made from high quality artificial grass.
Complex commercial and residential landscaping – If the curb design calls for smaller areas of grass or the integration of paving stones and grass, artificial turf is easier to maintain and acts as a barrier against weeds.
How does artificial turf technology differ today?
In the 1980s, artificial turf had a minimal background and was a woven product. Nowadays there are different technologies, each dedicated to the carrier, the fibers, the recycling processes, the durability, the exposure of elements and much more.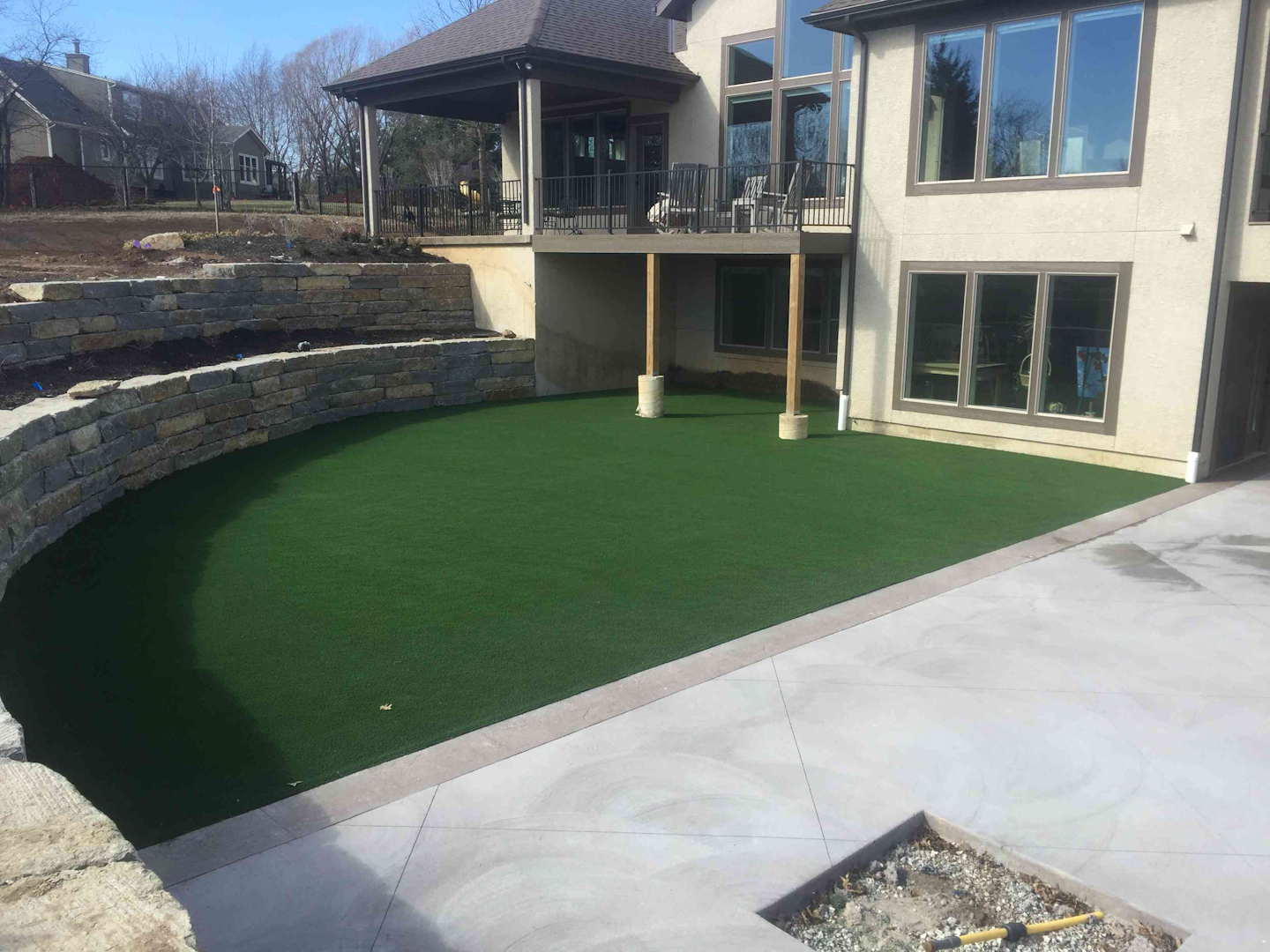 Photo: SYNLawn Kansas City
Every artificial turf manufacturer has different goals in order to stand out from the competition. Despite years of innovation, many companies continue to rely on infill to keep turf fibers upright and maintain elasticity. That's where SYNLawn is different. SYNLawn is dedicated to making products that are 100 percent recyclable from fiber to backing and has used this technology to create a tighter weave in their products. With a more tightly woven process, your turf fibers can be used in many applications without worrying about displacement or the use of infills. This creates a healthier solution for kids and dog areas.
Many companies have high drainage rates up to 30 inches per hour, but SYNLawn's latest line can drain up to 45 inches per hour. This means that the surface dries faster on commercial sports fields and in outdoor areas where heavy rainfall or flooding is common.
Artificial grass products will continue to be optimized for landscaping and commercial applications. With the numbers predicted by Synthetic Turf Council and HomeAdvisor, artificial turf doesn't seem to be disappearing anytime soon. Contact a local supplier to find out how your home or business can benefit from this water conservative alternative.
PUBLISHER'S NOTE: This article was written by Angela Grego, owner of three Midwestern markets for SYNLawn: Kansas City, St. Louis, and Arkansas. Her team designs and installs artificial turf indoors and outdoors for landscaping, creating greens, sports fields, dog areas, playgrounds, roofs, decks and much more.