Louisiana College renovates residence halls, upgrades landscaping
From the staff
PINEVILLE, La. – Louisiana College has completed a project that includes major dorm renovations and campus beautification.
The renovations, which began shortly after LC President Rick Brewer arrived at the school in 2015, were funded primarily through generous donations from alumni and other friends of the college:
The roof of Cottingham Hall has been repaired and the dormitories and drawing room have been given new floors and repainting. The common area has been expanded with new furniture and televisions, and the kitchen in this area has been fitted with a new countertop, sink, backsplash for tiles and appliances.
The bathrooms, lobby and common areas of Tudor Hall have been remodeled and a movie room has been added.
English Village Apartments received a new siding. New furniture and wall hangings have been added throughout the building. New tables and chairs have also been added to provide charging points so that students can recharge their computers and phones while studying or watching TV.
"Curb appeal remains among the top five reasons a student chooses a particular college to attend," Brewer said. "This fact is not lost at Louisiana College because we have made adding and maintaining landscaping an aesthetic and safety issue. Cathy and I are grateful for alums like Don Hill who have donated significant funds to campus beautification initiatives. "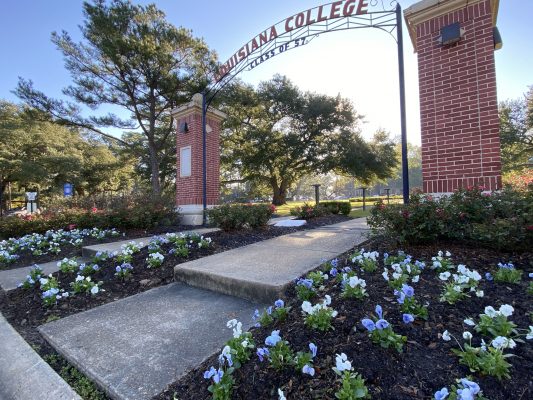 The brewer's wife, Cathy, along with the faculty and staff, helped landscaping outside the campus facilities and other areas of the campus. She was delighted to be part of the volunteer team and thanked the college alumni and friends for the generosity in providing funding for the beautification.
"I'm grateful that I did a small part in taking these projects into my own hands so that we can provide comfortable space for our students, faculties, and staff at Louisiana College," she said. "It is personally important to me that we maintain and create spaces that offer a home away from home."
Student Anna Matherne, senior business major and Cottingham Hall resident, said she was grateful for the facelift of her dormitory.
"I was so excited when I found out about the renovation work in the dormitories, especially since I got to see it for my senior year," said Matherne. "Entering my newly painted and furnished dormitory was like a Christmas morning. I was so excited to see everything that had been done. One of my favorite things to do is hang out at the White Parlor. I love going through the countless hours and getting to know her that have helped make this a special home for us girls. I spent many late nights in our lobby studying, watching movies, sharing a midnight pizza, or just hanging out with friends. I love having such a beautiful, comfortable and charming place to do this. "
LCNews and the Baptist Message contributed to this article.